If you are anything like me, you often find yourself struggling to find a happy medium in your life. It almost seems as though as soon as you start to focus your attention on one area in your life you notice that you start to slack in other areas. So you switch it up, only to have the same thing happen again. It just feels like there aren't enough hours in the day to do it all! Creating a balanced life seems like a mythical creature that doesn't exist.
However, you know it exists because while browsing through social media you find yourself envious of your friends and family that seem to have it all together. So you start questioning yourself and your abilities. Beating yourself up because you feel like a failure compared to everyone else. But honestly, who really has it all together? Sure, everything is sunshine and rainbows on social media but that isn't real life. Creating a balanced life is so important to our mental health. However, what you need in order to achieve balance in your life most likely isn't the same as the people you are comparing yourself to.
Creating a Balanced Life That Works for You
First, I think it is so important to remind ourselves that life isn't always going to be perfectly balanced all of the time. Life has a funny way of throwing us curveballs and the goal is to create a balance that we can easily bounce back to. Creating a balanced life means creating a life where we feel calm, clear headed, motivated, and grounded. This requires us to not only take stock of our external life like work, relationships, and hobbies. But also our internal life like our mental and physical health.
When conditions in our life become unbalanced, we have a tendency to neglect the relationship that we have with ourselves and then the relationship that we have with our partner(s). As a sex and intimacy coach, I have found that couples often struggle with creating a balanced life that nurtures their relationship. During my couples retreats, we focus on creating a balance that is tailored to the needs and desires of you and your partner(s). The relationship that we have with ourselves is the most important relationship that we will ever have. So, let us start by creating a balanced life that works for you! I promise, it isn't as daunting as it may seem.
Connect With Yourself
Carve out some alone time for you to take an honest look at your life. Meditation is an amazing mindfulness technique that works really well for me. What does having a balanced life look and feel like to you? Many times, creating a balanced life requires the help of others. Do you have a reliable support system in place? Think about any outside factors that may arise and create a plan of action so that you are able to tackle anything that may throw you off balance.
Set Goals
After you've spent time connecting with yourself, it is time to set those goals! I love visuals, so it always helps me to write them out. We want to be sure that we are setting both big and small goals. As well as, short term and long term goals. You have already worked so hard at overcoming perfectionism, make sure that your goals are realistic. What are your priorities? What areas of your life would you like to improve upon?
Empower Yourself
You've already come this far, babe! You have taken so many steps to creating a balanced life already. You have a list of goals in mind and you've accounted for any possible bumps that may come up along the way. You've made it this far and for that, you are a bad ass! Celebrate each and every win on this journey. Speak kindly to yourself. It takes time to accomplish any goal in life but if you move with focus and intention, there isn't anything that you won't be able to achieve!
Join our Babe Cave and tell us how you are creating a balanced life that works for you! In our group, you will find the support you need to achieve your goals.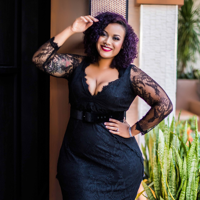 LeZandra McGinnis is a Norfolk, Virginia Photographer specializing in Boudoir Portraiture and Erotica Photography. LeZandra's life motto is: Fuck What They Think! And she encourages her clients to do exactly that! She can best be described as a Metalhead, Adventurer, and Whiskey Connoisseur.
LeZandra McGinnis
Owner at LeZandra Photography