Spending quality time with our partners is crucial to maintaining a healthy relationship. When we keep ourselves committed to this time together, we are able to strengthen our bond. It is recommended that couples schedule a date night at least once each week. Personally, I love to keep things fun and exciting by trying new things with my partner! Which is why I just had to host our first Beginner Couples Shibari Class in December!
What Is Shibari?
Shibari is an ancient Japanese form of rope bondage. This artistic form of bondage is often used in BDSM play. A shibari scene includes a rigger/top and a bottom. Because shibari involves restraint and power dynamics; consent, trust, and boundaries are key to enjoying this erotic rope bondage. Shibari is an amazing way to build intimacy and trust with your partner.
As a Norfolk kink boudoir photographer, I was instantly drawn to the erotic beauty of Shibari and immediately wanted to incorporate it at the studio by hosting a couples Shibari class. When I began making plans for our Kink Room, I envisioned shooting a couples boudoir session with the sensual rope ties. Capturing images of the bottom artistically bound by their top; the rugged texture of the rope against silky lingerie. Shibari truly is erotic art and this photographer cannot wait to offer this beginner bondage course. It is the perfect Valentine's Day date for couples!
View this post on Instagram
How Shibari Helped Me Surrender
I am all about creating experiences and I love learning new things! Especially if it involves some experimentation in the bedroom! 🔥
But, I have to admit; I am a bit of a control freak. In order for me to let go, I have to know that I will be safe and supported by somebody more competent than me.
I had an absolute BLAST learning about shibari bondage this past weekend with our fellow attendees!
Ms_Jesshawk taught us four beginner ties that we can incorporate into play with our partner, it is truly an intimacy and trust building experience!
This bondage experience ended up providing a perfect reflection on our relationship and it's dynamics with trust, communication, power exchange, and support.
Shibari requires constant communication between you and your rigger.
As a bottom, you must speak up about your needs and your comfort. Your tolerance, your abilities, and your desires.
As a top, you must provide a sense of safety and security. You have to communicate and express what you desire from your bottom.
This necessary exchange of communication required a bit of internal deep diving for me.
P is hard of hearing and because of it, communication has more speed bumps.
I have massive trust issues from past trauma and I struggle to effectively communicate my needs enough to let go.
I wasn't expecting to learn so much about myself, my partner, and our relationship from this class. But whoa…did I!!!
This beginner Shibari class allowed us to put our communication skills to practice in such an impactful way.
This experience was fun as hell. It was sexy. Surprisingly, it was emotional. It was insightful. It was playful. And notably, it was extremely erotic!
I cannot wait to host more classes at the studio!!!
We absolutely plan on making this a regular event!!!
Details for our next class are below!
Couples Beginner Shibari Class at LeZandra Photography on February 5th from 5pm-8:00pm.
During our beginner Shibari couples class, you will learn the following ties:
Somerville bowline
Bunny Tie
Arm binder
Futomomo (Frog Tie)
Included:
Three hours of intimate instruction with Rigger Ms Jess Hawk and her bottom at LeZandra Photography's studio.
During this beginner couples Shibari class, you and your partner will be guided through the Shibari basics to explore together while learning four Shibari ties. These are all great ties that can be used in the bedroom!
30 minute debrief to ask questions and watch a live scene in action.
Ask questions, practice, and have fun!!! Our Shibari course is designed to be an immersive experience!
Take home:
One 25ft-30ft Shibari Silk Rope
 1 pair of safety shears
1 blindfold
 Safety information and basic tie Information packet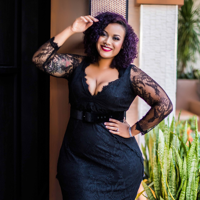 LeZandra McGinnis is a Norfolk, Virginia Photographer specializing in Boudoir Portraiture and Erotica Photography. LeZandra's life motto is: Fuck What They Think! And she encourages her clients to do exactly that! She can best be described as a Metalhead, Adventurer, and Whiskey Connoisseur.
LeZandra McGinnis
Owner at LeZandra Photography