Bondage Photography, more specifically Shibari Photography is sensual and erotic art. And it deserves to be photographed and admired as such. Personally, I absolutely love the way that the ropes photograph during a session!
After hosting our Couples Shibari Workshops at the studio, I was super eager to take some boudoir bondage photos. And I was extremely excited to hear that Ms J was interested in a bondage boudoir photography session!
Ms J previously had a couples boudoir session with me but this was her first solo boudoir session. And I am so happy that she chose this experience for herself! Our session began as a regular individual boudoir session and we progressed into a Shibari boudoir session.
Shibari Photography Featuring Ms. J in Our Norfolk Boudoir Studio
Why did you decide that you wanted to do a boudoir session?
I wanted to experience a solo boudoir session.
What made you decide to hire me as your photographer?
Love your work and enjoyed working with you on my couple session.
How did you feel about having your hair and makeup done?
Love getting all dolled up!
What is Shibari?
In Japanese, Shibari means "to tie". The art of Shibari rope bondage is widely used in the BDSM community. Shibari is also referred to as Kinbaku or Japanese bondage.
As a submissive, the act of being tied up and bound is a way of letting go and giving control over to your dominant. To be bound and at the complete mercy of your dominant is a freeing and liberating experience.
As a dominant, the act of tying up and binding your submissive is a way to exert control and dominance. Your submissive has given you full control over them and the BDSM scene. This is an exhilarating experience. But it does come with great responsibility.
Before a scene begins, both parties communicate what their goals are, what their limits are, and have established rules of play. It is the dominants responsibility to oversee the BDSM scene. Your submissive has put a great deal of trust into you to follow the pre-set terms. It is important that the Rigger or Rope Top is knowledgeable in these various ties, especially if suspension is involved.
Shibari Photography is Sensual and Erotic
A Shibari session can be both sensual and erotic. Boudoir is a celebration of the human body. Feeling secure and confident in your body is something that we all struggle with at some point in our lives. But when you are feeling that confidence and love for your body, you should celebrate it like the beautiful piece of art that it is!
I like to think of rope bondage as a piece of art as well. The gorgeous, intricate ties are like wrapping jewelry around your body.
Shibari with your partner is an intimate experience. The experience of asserting dominance or giving up control with your partner requires trust and communication. There is something so sensual about the beautiful rope ties wrapped in various patterns across your body.
I was instantly drawn to the erotic beauty of Shibari and definitely wanted to incorporate it at the studio. And when I began making plans for our Kink Room, I envisioned shooting a couples Shibari boudoir session with the sensual rope ties. Capturing images of the bottom artistically bound by their top; the rugged texture of the rope against silky lingerie. Shibari truly is erotic art!
Are You Ready for Your Erotic BDSM Photos?
After this Shibari Photography Session, I am super eager to shoot more erotic BDSM photos! Our Norfolk boudoir studio is fully equipped with all of the necessary props, tools, and erotic furniture to accommodate a solo or couples BDSM erotica boudoir session. As an erotica photographer, having a couples Shibari BDSM session will be so much fun for me! I have SO many ideas running through my head!!
I would love to bring these ideas to life! So, if you have been searching for bondage photographers or BDSM photographers, you came to the right place!
Fill out the form below and let's collab on sensual and erotic Shibari boudoir session!
And if you are thinking about adding Shibari Photography to your individual boudoir session, we can certainly make that happen. Ms. Jesse teaches our Shibari Classes and she will be more than happy to be your rigger for the day!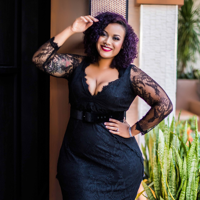 LeZandra McGinnis is a Norfolk, Virginia Photographer specializing in Boudoir Portraiture and Erotica Photography. LeZandra's life motto is: Fuck What They Think! And she encourages her clients to do exactly that! She can best be described as a Metalhead, Adventurer, and Whiskey Connoisseur.
LeZandra McGinnis
Owner at LeZandra Photography