As we enter into the new year many of us are making resolutions. Usually this entails things like joining a gym, volunteering at an animal shelter, or taking up a new hobby. While these are great resolutions, they typically involve adding things to our already full plates.
Instead, what if we started the year off by getting rid of things?
Setting boundaries is an amazing way to keep ourselves and others in check.
Self Care is a 'buzz' word that has gained a lot of traction especially during the pandemic; and rightfully so! But, what is self care exactly?
Self Care looks different to each of us. Self Care is doing something (or not doing something) that helps your mind, body, or soul feel good. I am a huge advocate of using boudoir photography as a form of self care. It actually starts before you and I even meet.
By choosing to have a boudoir session, you are choosing to put yourself first. Before your photo shoot, you and I work together to create an experience tailored to you. Yes, we spend time planning out your outfit choices, hair, and makeup.
But beyond that, we work to identify the woman that YOU want represented. We dive deep to represent the woman you are becoming and honor the experiences that have made you YOU. Sometimes that involves identifying areas where we allow others to cross our boundaries. 
As women, we often prioritize taking care of everyone around us and tending to our own needs last. As a boudoir photographer, I have seen first hand the positive results that come when you make yourself a priority. This is the year that we stop over extending ourselves. By setting healthy boundaries we will be able to get rid of things that negatively impact our mind, body, and soul.
Setting Boundaries to Keep Yourself From Saying Yes to Anything and Everything
Establishing limits with work, family, and friends is crucial to our mental health. It can be hard to say no to those we care about. However, we are doing ourselves a disservice when we over extend ourselves. Not only are we adding tasks to our ever growing 'to-do list', but we are adding stress as well.
The stress of "how am I going to manage all of this?" coupled with the stress of deadlines can be daunting. Then, somewhere along the way we rush through or even put off tasks. Leading to us feeling as though we have dropped the ball by not giving our best. How can we avoid this? By setting boundaries.
Setting healthy boundaries is self care. When we have boundaries in place we are able to communicate our needs and desires, not only to ourselves but to those around us. By setting boundaries, we are setting the basic guidelines for how we want to be treated. This can help ensure that we are cultivating a healthy relationship with ourselves and others!
In 2022, we are getting rid of saying yes to anything and everything in an effort to please others.
Get real about your limits.
Whether those limits are time, physical, or emotional; we all have limits. Be honest with yourself, where do you draw the line?
Acknowledge what you gain by setting healthy boundaries.
Do you gain more time, peace of mind, positivity, etc.? By acknowledging what you gain by setting healthy boundaries it makes sticking to those boundaries a bit easier.
Prioritize.
Get clear on what you need, what you want, and what would be good to have. When you prioritize your needs, wants, and luxuries; you are able to get a clear picture and create a set of boundaries.
Communicate your boundaries.
Communicate your boundaries as loudly and as often as you feel the need. It is your responsibility to communicate your boundaries to others. Maybe you aren't interested or maybe you just don't have the time. Whatever your reason, communicate your boundaries. You decide how much (or how little) information you share.
"No." is a complete sentence.
Pay attention to your needs.
You owe it to yourself to re-evaluate your boundaries any time you feel as though your needs are not being met. Feeling over-whelmed, guilty, resentful, or just overall negative about any situation is a sign that your boundaries have been breached.
Practice Self Compassion.
Setting healthy boundaries is a learning process. If you have dropped the ball by not enforcing your boundaries, forgive yourself. Treat yourself with kindness, learn from the experience, make adjustment as necessary, and recommit yourself to your plan.
Let 2022 be the year you are deeply connecting with yourself and intentionally practicing self care!!!
What boundaries will you be establishing this year? Let us know by joining the conversation in our Babe Cave!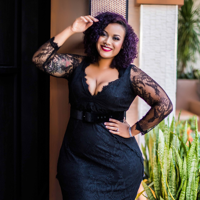 LeZandra McGinnis is a Norfolk, Virginia Photographer specializing in Boudoir Portraiture and Erotica Photography. LeZandra's life motto is: Fuck What They Think! And she encourages her clients to do exactly that! She can best be described as a Metalhead, Adventurer, and Whiskey Connoisseur.
LeZandra McGinnis
Owner at LeZandra Photography