Have I mentioned that I absolutely fucking love what I do?! I am beyond thrilled that Miss S trusted me not only once but twice with her boudoir photo session! Miss S first came to me in 2015 and came back for her second session in 2021! Seeing Miss S's self love through boudoir photography has reminded me of why I do what I do. She exudes self love and self connection in her photos! And I am so excited to share them with you!
I love when my clients become more than just clients! Boudoir photography is so intimate, so we get to know each other quite a bit during our session! But, what I love seeing the most is how comfortable you get in front of the camera after you have had your first session. Seeing not only the growth but the confidence, love, and strength that you have found in yourself makes me so fucking happy for you!
Miss S is Exuding Self Love Through Boudoir Photography
Let me tell you a little about Miss S and why this second session was so fucking important! Miss S is a coastie mom who has decided to have a second boudoir photo session for herself! As mamas, we focus so much on those in our lives and not enough on ourselves. We deserve to be celebrated when we are slaying those personal and professional goals!
Miss S began setting boundaries in her life and set limits to how she was and wasn't going to be treated. Ultimately, this meant a divorce for Miss S. And what I love so fucking much is that instead of allowing herself wallow in sadness, she came to me to celebrate this new chapter in her life!
Miss S choosing self love through boudoir photography is the type of love that I wish more women and moms would embrace. As women we deserve to focus on ourselves and commemorate new beginnings in our lives with bad ass images. I love being able to capture these life changing moments and chapters in your life for you.
Practice Self Love Through Boudoir Photography
I want you to show off how you are kicking personal and professional ass! You have done the hard work to get here, you deserve to relish in it! It is totally possible to practice self love through boudoir photography!
Miss S made the life changing decision to stop tolerating less than what she deserves. She chose to commit to focusing on herself, celebrating herself, and honing in on her purpose.
Seeing and noticing Miss S's transformation was such an honor for me! She is a reminder for me and for all of us, that we deserve to be celebrated! Can you see how her self love and power radiate in the photos?
Do you love Miss S's boudoir photos as much as I do? Book your Norfolk Boudoir Photo Session with me today!
Visit the Babe Cave to connect with bad ass babes just like you!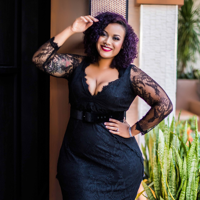 LeZandra McGinnis is a Norfolk, Virginia Photographer specializing in Boudoir Portraiture and Erotica Photography. LeZandra's life motto is: Fuck What They Think! And she encourages her clients to do exactly that! She can best be described as a Metalhead, Adventurer, and Whiskey Connoisseur.
LeZandra McGinnis
Owner at LeZandra Photography