I've been working on an Erotica Photography Guide for Boudoir Photographers who have been wanting to explore sexuality and intimacy beyond the confines of traditional boudoir photography.⁠ I have been shooting Erotica Boudoir for some time now, and I strongly feel that an Erotica Guide for Boudoir Photographers is very much needed for our community! Not only will this Guide be beneficial to existing Erotica Boudoir Photographers but it will be a tremendous asset for those who are interested in dipping their toes into it!
I started shooting Erotica seven years ago and it has been so incredible to see just how profound of an impact that expressing one's truest sexual self can have.⁠
⁠
Some clients choose solo erotica sessions to reclaim their sexuality after experiencing trauma. Others do it to see themselves in a sexual light, because they struggle to see it on their own.⁠
⁠
Our couples find that the sessions are a DEEPLY connecting experience. I have so many tools in my sensual toolbox to help couples rediscover new ways to express themselves sexually.⁠
⁠
⁠
Erotica is a deeply personal experience for ALL involved. ⁠
⁠
Knowing how to coach your clients through an immensely intimate experience requires solid communication, working through your own sexual bias (we all have them!), and creating an environment that fosters sensual expression. ⁠
I am so excited that we will be launching the Beta Version of our Erotica Guide NEXT WEEK!⁠ I truly believe that this guide book will not only help photographers new to erotica but existing erotic boudoir photographers! There is so much information that can be learned, practiced, and tweaked into perfection.
⁠
Sign up for the Beta Launch HERE if you'd like to learn more about offering this to your clients! ⁠⁠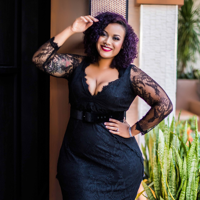 LeZandra McGinnis is a Norfolk, Virginia Photographer specializing in Boudoir Portraiture and Erotica Photography. LeZandra's life motto is: Fuck What They Think! And she encourages her clients to do exactly that! She can best be described as a Metalhead, Adventurer, and Whiskey Connoisseur.
LeZandra McGinnis
Owner at LeZandra Photography