Life kicks us around. A lot. Between the daily demands of existing and the trials we experience, being a human is hard. Being a woman is hard. Do this, do that, change this, fix that – it can feel incessant. Throw in kids and divorce and things can get even more complicated. Miss M wanted to really "see" herself again and that's exactly what this experience did for her. Like anyone else, she was nervous that the experience wouldn't be what she needed it to be. She came to the studio and absolutely knocked it out of the park. I'm so glad that she gave boudoir a chance!

Why did you decide that you wanted to do a boudoir session?
I had no confidence. I had 2 children so my body image was not what I was before children. I was also going through a divorce.
What made you decide to hire me as your photographer?
My best friend knows you and recommended.
How did you feel about having your hair and makeup professionally done?
I felt like a queen.
How were you feeling before your shoot? Any thoughts going through your head?
I was nervous. I don't like taking pictures. I know nothing about posing sexy.
Now that you've had your own photo shoot, how was it?
It was amazing and I absolutely love my pictures. LeZandra was amazing and made me feel like I'd known her for years!
What would you say to someone considering doing a boudoir shoot?
Do it!!! Put the fear aside and just go for it.


Have you lost your confidence along the way? Let me help you find it! Fill out the form below and let's start planning your ultimate boudoir experience!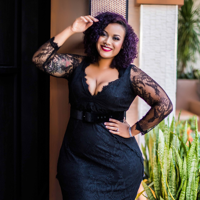 LeZandra McGinnis is a Norfolk, Virginia Photographer specializing in Boudoir Portraiture and Erotica Photography. LeZandra's life motto is: Fuck What They Think! And she encourages her clients to do exactly that! She can best be described as a Metalhead, Adventurer, and Whiskey Connoisseur.
LeZandra McGinnis
Owner at LeZandra Photography