Sometimes the biggest reason to do a boudoir session is to have something to share with your significant other and that's something we're happy to help out with! One of the reasons our studio is so unique is how important sex-positivity is to us. We are loud and proud and love to sing it from the rooftops. After all, that's part of why boudoir is popular. Miss B wanted to really have fun with her session and we happily obliged.
Why did you decide that you wanted to do a boudoir session?
I wanted to wow my boyfriend with a 40th birthday gift.
What made you decide to hire me as your photographer?
I like your open energy and my BF and I both liked your photos.

How were you feeling before your shoot? Any thoughts going through your head?
Excited & a little nervous.

Now that you've had your own photo shoot, how was it?
LeZandra was incredible to work with. She gave me the coaching when I needed it but also let me go when I was feeling myself. She was so warm and encouraging which made the day very memorable.
What would you say to someone considering doing a boudoir shoot?
Do it!!!
Want to get super sexy for your session? We got you covered. E-mail me today and let's talk about bringing your vision to life.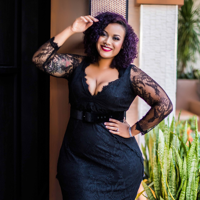 LeZandra McGinnis is a Norfolk, Virginia Photographer specializing in Boudoir Portraiture and Erotica Photography. LeZandra's life motto is: Fuck What They Think! And she encourages her clients to do exactly that! She can best be described as a Metalhead, Adventurer, and Whiskey Connoisseur.
LeZandra McGinnis
Owner at LeZandra Photography