One of my favorite things is when someone comes in to do a session for themselves. Not their lover, not a friend, THEMSELVES. There's some kind of special *magic* that occurs when someone really wants to dive into this experience to celebrate who they are and what makes them shine. Miss J went head first into the pool that is our studio, and her photos just radiate sexy, one of a kind, gorgeousness. Take a look for yourself and read what Miss J had to say about her session from her own words.

Why did you decide that you wanted to do a boudoir session?
Because I wanted and needed to celebrate my damn self for once and I'm beyond proud
of me for doing it!
What made you decide to hire me as your photographer?
Because you're bomb AF aaaand I pretty much fan girl / stalked your work for over 2
years (in the most uncreepy way possible lol).
How did you feel about having your hair and makeup professionally done?
I was nervous at first about my hair more so than my makeup because I don't let just anyone touch my hair. But since I had my hair pin curled already I was a little less nervous.
How were you feeling before your shoot? Any thoughts going through your head?
Nervecited ( nervous + excited).
Now that you've had your own photo shoot, how was it?
It was amazing and I absolutely love my pictures. LeZandra was amazing and made me feel like I'd known her for years!
What would you say to someone considering doing a boudoir shoot?
Do it! You'll only regret putting it off even more than you already have! There's no need in being afraid, you're only denying yourself and there's no need for that!
When was the last time you did something (anything) to celebrate YOU? Who you are in a sultry and sexually defined way? Boudoir may be about more than sexy pics, but it's still about sexy pics! Personally, I think it's your turn to come to our downtown Norfolk studio and experience a LeZandra Boudoir Experience for yourself. Fill out the form below and let's start planning the best boudoir experience for you!!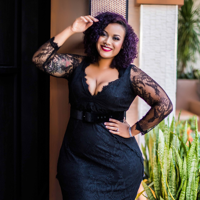 LeZandra McGinnis is a Norfolk, Virginia Photographer specializing in Boudoir Portraiture and Erotica Photography. LeZandra's life motto is: Fuck What They Think! And she encourages her clients to do exactly that! She can best be described as a Metalhead, Adventurer, and Whiskey Connoisseur.
LeZandra McGinnis
Owner at LeZandra Photography