Miss L: Reconnecting With Her Sensuality In Our Norfolk Boudoir Studio
This post is LOOONG overdue, as Miss L had her session in January of 2021.
I am SO happy to feature this babe. When these images were taken, I had no idea just how much of an impact she would have on my life! I had no idea how inspiring it would be to witness Miss L reconnecting with her sensuality.
After her session, Miss L joined our team here at the studio as my right hand babe. She was the most incredible assistant a gal could ever ask for!
Watching her own relationship with her body and sexuality evolve during her time with us in the studio was such a powerful reminder for me on the importance of this experience. Seeing her reconnecting with her sensuality helped me to reconnect with mine!
She has been the greatest friend and the most amazing light in my life. I'm so fucking thankful to have met her.
Miss L Reconnecting With Her Sensuality Is an Inspiration
I have learned so much from her. I've been so inspired by her.
I love her willingness to dive in and do the hard work in all things. She is such a fast learner and is so fucking capable of anything she puts her mind to.
I love her commitment to growth. And, I love her beautiful oversized heart and the amount of pure love she possesses.
I love that she forced me to take care of myself. And learn what that means. Because I truly think I would be in a far worse shape if I hadn't had her to pull me back.
She taught me how to be a boss, and helped me learn what kind of leader I want to be. She is the reason I was able to start creating balance in my life.
I am so endlessly proud of her and I am so fucking excited to watch her in this next evolution of life.
I am going to miss seeing her face in the studio but I am SOOO happy that she will still be a part of our team!
Miss L's session was her exploration into her sensual side
Why did you decide that you wanted to do a boudoir session?
I after gaining weight because of some hormone health issues I have been struggling to see myself as sexy. I booked the shoot as an effort to help me rediscover my sensuality.
What made you decide to hire me as your photographer?
I had been following your social media for more than a year and love the energy and effort you put into each session. It's a whole experience! I also loved the fact that your background is in psych and you are working on sex coaching!
How did you feel about having your hair and makeup professionally done?
The hair and makeup team is amazing! I was so comfortable and relaxed the entire time. They were so fun to chat with and did an amazing job.
How were you feeling before your shoot? Any thoughts going through your head?
I was worried about being slightly uncomfortable and how that might come across in my facial expressions.
Now that you've had your own photo shoot, how was it?
I had THE BEST TIME! There wasn't a single second of awkwardness or discomfort! LeZandra's coaching is so easy to understand and implement and everything flowed very naturally. I was right at home!
What would you say to someone considering doing a boudoir shoot?
FUCKING DO IT! It's 100000% worth the price for the experience. Don't overthink it, just show up and be curious and excited and you'll kill it. Read all of the pre session emails and take advantage of the advice! Drink all the water and use all of the lotion leading up to the shoot. You'll be glad you did!
Is there anything I could do that would make this experience completely perfect?
I enjoyed the hidden penis. Little things like that to make things light hearted are amazing!
Honestly I wouldn't have changed a single thing!

Boudoir Photography is Self Love In Action
Miss L is a perfect example of how investing in yourself and diving headfirst out of your comfort zone can challenge you to grow! By reconnecting with her sensuality, Miss L is an inspiration to all of us.
Join our Babe Cave full of amazing babes who support and uplift each other.
Are you ready to experience how boudoir photography is self love? Are you ready to reconnect with your sensuality? I would LOVE to hear from you!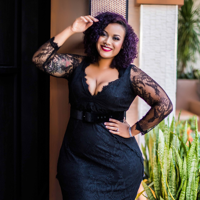 LeZandra McGinnis is a Norfolk, Virginia Photographer specializing in Boudoir Portraiture and Erotica Photography. LeZandra's life motto is: Fuck What They Think! And she encourages her clients to do exactly that! She can best be described as a Metalhead, Adventurer, and Whiskey Connoisseur.
LeZandra McGinnis
Owner at LeZandra Photography