In recent years, sex positivity has been a headlining topic in many articles, social media posts, podcasts, etc. I cannot stress enough how fucking happy it makes me to see the conversation around sex positivity becoming a mainstream talking point! For so many years, sex has been such a taboo subject and many people have been ashamed to even utter the word, 'sex'. This has always baffled me, even more so now as an adult. How can something that people all over this planet engage in be an off-limits conversation?
What is Sex Positivity?
In an article for Healthline, sex educator Goody Howard says that "sex positivity is the idea that people should have space to embody, explore, and learn about their sexuality and gender without judgement or shame." In this same article, trauma-focused therapist and sexuality educator Aida Manduley, LCSW adds that "it involves being nonjudgmental and respectful regarding the diversity of sexuality and gender expressions, as long as there is consent."
I think that these are two amazing explanations of sex positivity! Consent is extremely important in so many areas in life, not just the bedroom. In addition, what I feel is often overlooked in our society is giving each other space to explore all aspects of themselves in a nonjudgmental atmosphere. How can we ever know what we like and dislike without experiencing them? Who are we to judge another person and tell them they are right or wrong?
How Can I Be More Sex Positive?
Living a sex positive life is not only beneficial to you, it is beneficial to all of us! When we release all of our inhibitions we are able to explore ourselves and our sexuality. Letting go of any negativity, shame, or embarrassment allows us to reap the benefits of sex positivity. The more that we are able to delve into our own sexuality the more open and accepting we can be towards others.
How can you be more sex positive? I found an amazing list on The Every Girl that I feel are amazing ways to be more sex positive.
Educate yourself on experiences other than your own.
Volunteer with women's reproductive organizations.
Speak candidly with loved ones.
Don't yuck someone else's yum.
Talk about consent.
Stop apologizing.
Advocate for sexual education.
Stay body positive.
Stop slut shaming.
Stay on top of your sexual health.
Benefits of Sex Positivity
There are SO many benefits to being sex positive! When we allow ourselves to be open and nonjudgmental with ourselves, we make room for others to do the same. We look at our own experiences differently, we are more in tune with our own needs, and we allow ourselves to live authentically. Sex positivity can enhance our mental health and alleviate negative feelings and shame.
How Does Boudoir Photography Promote Sex Positivity?
I fully believe in promoting sex positivity in boudoir photography. Society has done a great job of repressing our sexual nature and it is my full intention to break down these barriers during your boudoir session. By creating a comfortable setting, I encourage my clients to let down their walls and connect with their sensuality. Boudoir sessions truly are extremely similar to therapy sessions. I am here to hold your hand and walk you through what is comfortable for you. All while capturing your journey through my lens, creating a memorable experience that you can look back on for years to come!
There really isn't a right or wrong way to express yourself. As humans, we are always growing and evolving. During a boudoir session, you are opening yourself up to a new experience and stepping out of your comfort zone. I think that is one reason why I have so many repeat clients. Once they have pushed themselves during a session and experienced the benefits of a boudoir session, they want to push themselves a bit further.
Are you interested in products to help you lead a more sex positive life? Visit our sister site Lux In Tenebris Lingerie for sex positive products that will blow your mind in and out of the bedroom!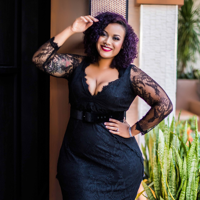 LeZandra McGinnis is a Norfolk, Virginia Photographer specializing in Boudoir Portraiture and Erotica Photography. LeZandra's life motto is: Fuck What They Think! And she encourages her clients to do exactly that! She can best be described as a Metalhead, Adventurer, and Whiskey Connoisseur.
LeZandra McGinnis
Owner at LeZandra Photography