Did you know that you can book multiple boudoir sessions? This gorgeous lady has come to me THREE times. THREE. And she kills it every time. It's an honor that I get to photograph and empower women. Getting to do it multiple times? Incredible. The change I get to witness after a session is truly a brilliant thing to behold. Watching women come into themselves and who they are is just mind-blowing. I still have to pinch myself sometimes to remind myself that this is my life.
Check out Miss K's session:
Why did you decide that you wanted to do a boudoir session?
Over the last two years, I have found boudoir photography to be an exceptionally important component in my healing journey with my body. I booked this session in particular to celebrate my 26th birthday. My last few birthdays have been less than stellar and I think we all can agree that 2020 has been a hell of a year. I wanted to celebrate my resilience in making it through this insane year as the motherfucking Queen I am.
What made you decide to hire me as your photographer?
First, you know I love you. (Hell yeah! Session Number Three!!) I appreciate your integrity and passion that you bring to your artistry. But for me, it's really how to flawlessly integrate edginess with sexiness. I love how you create art as your authentic self and help others to recognize their value, sexuality, and badassery as THEIR authentic selves.
How were you feeling before your shoot? Any thoughts going through your head?
The week before I was super anxious. The day of, I was super excited, but honestly feeling like a hot mess! Once I got to the studio I felt so much better.
How did you feel about having your hair and makeup done?
OMG! Leah and Tabs were literally so amazing. Not only were they beyond talented, but were so funny and sweet. I think my hair and makeup was the favorite that I have ever had done when shooting with you.
Now that you've had your own photo shoot, how was it?
So so great. I literally felt like such a badass and absolutely gorgeous. It's so much fun and time literally flies by so fast. I felt like I was the most authentic this time around bringing genuine joy and laughter and self-love with me to my session.
What would you say to someone considering doing a boudoir shoot?
Do it. Not when you lose 10 pounds or feel sexy and confident. Do it now. You DESERVE it. Ladies, you do SO much for everyone else. You buy gifts for your partner. You splurge on the best things for your children. You work overtime for your career goals or sacrifice your career for your family. Do. This. For. You. Do something to celebrate yourself. Your body. Your soul. You will not regret it.
Yes, you can book another session if you've already done one! This isn't a one and done type of experience. It's kind of addicting (sorry, not sorry) and seeing the difference for yourself is so empowering. Boudoir experiences should definitely be something you enjoy more than once.
Want to book again or haven't booked a session yet? Link up with me by filling out the inquiry form below and let's get on the phone asap!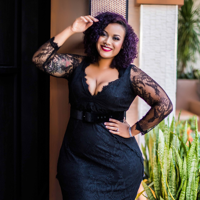 LeZandra McGinnis is a Norfolk, Virginia Photographer specializing in Boudoir Portraiture and Erotica Photography. LeZandra's life motto is: Fuck What They Think! And she encourages her clients to do exactly that! She can best be described as a Metalhead, Adventurer, and Whiskey Connoisseur.
LeZandra McGinnis
Owner at LeZandra Photography