There are so many facets to who we are as humans. Light and dark, calm and hyper, sweet and spicy, the list goes on and on. For most of us, there's a struggle in seeing our seductive side. Our society has done a real good job of stifling sexuality and making us feel like there's something wrong with expressing it or allowing yourself to be seen as anything but modest. So, when a client comes in ready to showcase this side of themselves, I am giddy. Over the moon. I love helping my clients discover and showcase this side of themselves, because you deserve to celebrate each angle of who you are; even the parts that might make you uncomfortable.
Miss H came in ready to dominate the experience. She wanted to showcase her sexy and I was HAPPY to help!
Why did you decide that you wanted to do a boudoir session?
I wanted to show a more sexy side of myself to my spouse who probably doesn't see it enough! So I thought this would be a great way to introduce that to him, and show him a token or my appreciation and love for him.
Plus, it really made me look at myself a little differently in the best way! I feel it helped me become a little more in touch my with sexual side!
What made you decide to hire me as your photographer?
I was referred and heard nothing but great things! Your work is amazing!
How were you feeling before your shoot? Any thoughts going through your head?
I was just really excited!
How did you feel about having your hair and makeup done?
It was a different experience, as you know I do makeup. It wasn't the way I would've necessarily done it to be honest. I'm sure it all looked great in the pictures though! I love having my hair done because I have a lions mane and I hate trying to tame it!
Now that you've had your own photo shoot, how was it?
It was so much fun! You're energy is so great and it really was easy to be comfortable! I will definitely be doing another one! Maybe even a couples session!
What would you say to someone considering doing a boudoir shoot?
Do it and have fun!! They really make you feel good about yourself! I loved it!
Do you stifle your sexy side? Do you want to showcase that part of yourself? Let's talk! Fill out the form below and let's talk about creating an experience tailored just for you.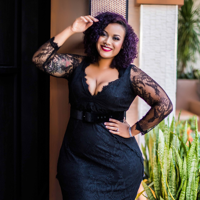 LeZandra McGinnis is a Norfolk, Virginia Photographer specializing in Boudoir Portraiture and Erotica Photography. LeZandra's life motto is: Fuck What They Think! And she encourages her clients to do exactly that! She can best be described as a Metalhead, Adventurer, and Whiskey Connoisseur.
LeZandra McGinnis
Owner at LeZandra Photography