There's this bizarre notion that I've seen fairly often among my clients and it's this: "LeZandra takes great photos, but I don't think it will work for ME." Boudoir is for everyone. Every type, every body, every style, every personality. A huge part of what I do is getting to know YOU and creating your images to reflect what an incredible human you are. I strive to create art that makes your soul sing as much as it does mine. I want you to see for yourself what a work of art you are.
Why did you decide that you wanted to do a boudoir session?
I've always wanted to, and with everything that has been going on in my life I felt like this was the perfect timing.
What made you decide to hire me as your photographer?
I loved your website and there was something about your site that made me feel comfortable.
How were you feeling before your shoot? Any thoughts going through your head?
Wasn't sure I would look like the girls in the picture. Or if I would feel comfortable with how they turned out. From the ones I've seen so far I absolutely love them!
How did you feel about having your hair and makeup done?
From not doing a whole lot in my everyday life it was nice to look soo amazing!
Now that you've had your own photo shoot, how was it?
I was so comfortable and trusted everything you said. I have already told everyone I know they need to do one !
What would you say to someone considering doing a boudoir shoot?
DO IT. Everything was amazing!
Now it's your turn to see that boudoir is for YOU, too. Submit an inquiry today and let's get you scheduled!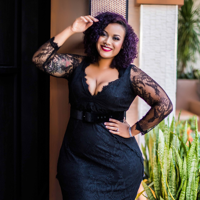 LeZandra McGinnis is a Norfolk, Virginia Photographer specializing in Boudoir Portraiture and Erotica Photography. LeZandra's life motto is: Fuck What They Think! And she encourages her clients to do exactly that! She can best be described as a Metalhead, Adventurer, and Whiskey Connoisseur.
LeZandra McGinnis
Owner at LeZandra Photography