When I say that almost every single client is worried that this process intimidates EVERY. SINGLE. CLIENT. I'm not kidding. The hardest part of being a boudoir photographer is seeing how prevalent low self-esteem is – regardless of size. The best part of being a boudoir photographer is being able to squash those insecurities and show each person how incredible they are. I love bringing out your inner badass. I love showing you what I see, what every one else sees. You are brilliant, stunning, an absolute goddess. Take a peek at Miss C's images and read her thoughts on her experience at our amazing downtown Norfolk boudoir studio.
Why did you decide that you wanted to do a boudoir session?
I never felt sexy at my weight, despite my now fiancé telling me so. A former high school classmate had added me to the page and I saw all the different body types that were photographed so beautifully. It made me think why not me. I wanted to prove to myself that I am sexy no matter my size.
What made you decide to hire me as your photographer?
I had been a part of the Facebook group for about a year. Observing silently and seeing everyone's posts and your videos. I felt comfortable with your style and appreciated your work.
How were you feeling before your shoot? Any thoughts going through your head?
I was incredibly nervous and doubting myself. I thought, "what if I don't look good in any photos? What if I'm just wasting your time by being a bad canvas to work with?"
How did you feel about having your hair and makeup done?
As someone who usually only gets her hair cut maybe twice a year, it was odd to be pampered. But the end effect was beautiful and I wish I had the skill or energy to look like that more often.
Now that you've had your own photo shoot, how was it?
It was an incredible experience. I'm normally a very shy person and it didn't seem to matter once I stepped into the studio. Once we started it was almost like all my insecurities melted away.
What would you say to someone considering doing a boudoir shoot?
The hardest part is booking (then shopping). Having the courage to make the decision to put yourself out there and decide that you're worth it. Once you're at the shoot, everything you thought of before entering won't even be a factor.
If you're being held back by negative self-image, CALL ME NOW. Imagine how your life could change if you weren't so mean to yourself. Imagine how much power you'd have if you weren't being plagued by self-doubt. Let's get you on the schedule as soon as possible. You deserve this kind of freedom.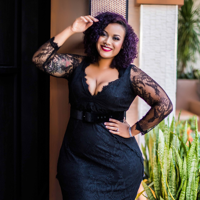 LeZandra McGinnis is a Norfolk, Virginia Photographer specializing in Boudoir Portraiture and Erotica Photography. LeZandra's life motto is: Fuck What They Think! And she encourages her clients to do exactly that! She can best be described as a Metalhead, Adventurer, and Whiskey Connoisseur.
LeZandra McGinnis
Owner at LeZandra Photography