Societal pressures to meet a certain "ideal" are bad enough, but when you add criticism from your partner? It takes on a whole other level of intensity. Miss M spent far too much time hearing she wasn't good enough and finally made the decision to walk away. As a result of all that mental fuckery, Miss M desperately needed a way to reclaim her body for herself. That's where I, and my downtown Norfolk studio, come in. This is something near and dear to my heart. I LOVE showing women that they are everything they want to be and more – as they are in this moment. And in the next moment and in the next. You are worthy of being seen this way. You are perfection embodied and it's an honor to show you that.
Why did you decide that you wanted to do a boudoir session?
After a divorce and being told from the love of my life that I wasn't the supermodel that he deserved….. Well, that shit fucks your head up! 5 years of trying to "find" a man made me realize I need my own happiness first before I ever share a life with someone. Well here I am now making career changes and making my life happen for me. I wanted to embrace my confidence and my happiness with myself and show my daughter that a life on your own is just as beautiful as with a partner.
What made you decide to hire me as your photographer?
BECAUSE.YOU.ARE.THE.BEST! (Side note from me: Excuse me why I blush!)
How were you feeling before your shoot? Any thoughts going through your head?
Excitement and happiness about being able to express my confidence and love for myself.
How did you feel about having your hair and makeup done?
It is always fun being pampered by someone. I'm always doing it to other clients, it was relaxing to have someone do it to me. 🙂
Now that you've had your own photo shoot, how was it?
Ready for another one!!!
What would you say to someone considering doing a boudoir shoot?
Do it. Don't wonder in life, "what if.". Embrace the beauty in yourself and show off what the good Lord gave you!!
Have you been plagued by negative self-esteem because someone tore you down? Sadly enough, that's the case for many of my clients. My unique style of shooting and digging into that negativity with you can be a great catalyst for changing those mindsets. Head over to my information page here to learn more about this whole process.
Not ready yet? Come hang out with us over in the Babe Cave on Facebook and let our incredible group of women build you up and show you just how life-changing this experience can be.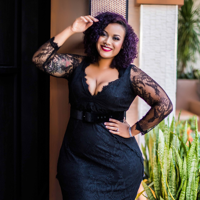 LeZandra McGinnis is a Norfolk, Virginia Photographer specializing in Boudoir Portraiture and Erotica Photography. LeZandra's life motto is: Fuck What They Think! And she encourages her clients to do exactly that! She can best be described as a Metalhead, Adventurer, and Whiskey Connoisseur.
LeZandra McGinnis
Owner at LeZandra Photography