I am often contacted by women who are interested in a boudoir session with me. There are usually quite a few reasons why they are hesitant to book a session. "I'm Not 'Young' Enough to do a Boudoir Session", is a pretty common excuse. My response? How old is too old for a boudoir session?
Really. Think about that for a minute. How old is too old for a boudoir session?
Can you come up with an answer? Because I cannot.
I am a boudoir photographer and I am here to tell you, it is time to ditch these archaic 'rules' that society has placed on women.
Stop Saying "I'm Not 'Young' Enough to do a Boudoir Session"
There is not an age limit when it comes to boudoir sessions. Well, legally of course you have to be at least 18 years old. But after that, babe you are free to do whatever the fuck you want to!
I meet women of all ages, in all stages of their life. There isn't a blueprint timeline for life. You are the creator of your own story and the only limit that you must set for yourself is when YOU are ready!
I have been so very fucking honored to meet some of the lost bad ass women as a photographer. Women who have inspired me. Women who without even realizing it have transformed me into the woman that I am today.
To hear you say, I'm not young enough for a boudoir session breaks my heart. You reached out because something spoke to you. Because you felt drawn to this liberating, therapeutic, sensual experience.
All throughout our lives, we are expected to follow certain rules. There is an unspoken timeline that we have been given and are expected to follow.
Now, I could totally go into a rant about how fucked up and patriarchal this is. But, I'm pretty certain you already know. If you have read my previous blog, Making Self Care and Self Connection a Priority, you are fully aware that these 'expectations' have no place in our lives in 2022.
Sexy is a State of Mind
Which is why I want you to take that feeling of, "I'm not 'young' enough for a boudoir session." And kick it to the curb. Boudoir Photography is for EVERY body and no one is going to tell you that you are 'too old' for it.
As I said before, I have met with women of all ages in all stages of their lives. We all have our own personal journey to follow. Each of us learning life lessons at different times. One thing that I want you to know is, sexy is how you feel. Whether that be at 20 or 70! Regardless of what you are wearing, what you look like, how old you are, etc. Sexy is a state of mind!
My team and I will do everything that we can to make you feel comfortable, safe, and sexy! Watching a woman come into her own, to see her tap into her sensuality is my drug of choice. I cannot explain it.
But there is something about seeing a woman let go of these limitations that society has placed on us. Witnessing that self doubt peel away and watching her blossom into her true self in front of my camera is so fucking powerful.
Are you ready to step into your sensuality? To say, Fuck What They Think, and OWN your power? Let's do it, babe! I am SO ready to prove to you that YOU are amazing, sexy, and powerful. And that your age is nothing but a fucking number and it doesn't mean a damn thing when it comes to boudoir photos!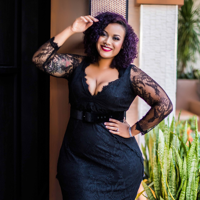 LeZandra McGinnis is a Norfolk, Virginia Photographer specializing in Boudoir Portraiture and Erotica Photography. LeZandra's life motto is: Fuck What They Think! And she encourages her clients to do exactly that! She can best be described as a Metalhead, Adventurer, and Whiskey Connoisseur.
LeZandra McGinnis
Owner at LeZandra Photography