You have heard about boudoir photoshoots, you have seen your friends amazing boudoir photos, and now you are ready to book your very own boudoir session! If you are anything like me, you have searched the internet for hours to ensure you find the perfect photographer. Let me help you out a bit! Here are my top five things to consider when choosing a boudoir photographer.
Top Five Things to Consider When Choosing a Boudoir Photographer
1. Do we vibe together?
Being comfortable is paramount. You are getting naked in front of them. It is so important you feel as though you can do so without feeling judged or unprepared. How is their communication style? Do you feel 'heard'? You need to feel like they are good communicators and that they listen, take your needs into account, and will do their best to support you.
Ask yourself, do they "get me"? After speaking with your boudoir photographer, do you feel as though they understand you? Having a photographer that understands the vision that you have for your boudoir shoot is crucial to a successful partnership! 
2. Do I like their style? 
Photography is a form of art. And every photographer has their own personal style. Personal aesthetic is so important. You want images that resonate with you. Choosing a boudoir photographer that has a style that speaks to you is so important! This is art, and art is subjective. Not everybody loves bright and airy, and not everybody loves dark and moody. As you are looking through their portfolio, try to envision yourself in the portraits. Choose a boudoir photographer that has an aesthetic that is appealing to you.
3. Do I feel comfortable and safe?
When you are choosing a boudoir photographer it is SO very important that you feel comfortable and safe with them. Does this photographer give you any weird vibes? If so, end your meeting immediately and do not look back! Boudoir photography is intimate and personal. Your photographer should be welcoming and professional.
Does your photographer have an assistant? If you are a woman, shooting with a male photographer for the first time, I highly advise that you demand that an assistant be present during your session. Schedule time to meet with the photographer and the assistant together, so that you are able to judge how you feel around them. It is important that you feel safe and secure having your team see you in a vulnerable state. 
If at any time, you do not feel comfortable or safe with your boudoir team, please leave immediately.
4. Can they provide the receipts?
Not just the receipts of your payment, we will get to that in a bit. But, is your boudoir photographer legit? Not to knock photographers that advertise on sites like Craigslist, but we have all heard horror stories. In 2022, a professional photographer will have an established website dedicated to showcasing their craft. 
That isn't to say that having a website is the only legitimacy a photographer needs, but it is a start. In addition to a website, look for reviews. Many professional photographers will have a section dedicated to reviews on their website. But, I urge you to do a bit of detective work as well. Check out their social media accounts. Read what their followers are saying about them. Google the name of the photographer and do some digging prior to meeting with them. 
One last, but very important thing to look for are contracts. Professional boudoir photographers will have contracts for you to review and sign prior to booking your photo session. Read them carefully and make certain that you completely understand and agree with the contracts prior to signing them. These contracts ensure that both you and the photographer are on the same page and in agreement.
5. Is the price right?
Professional boudoir photographers use various ways to create their packages. You can find talented photographers in various price ranges. Several photographers offer payment plans as well! LeZandra Photography offers a 0% interest payment plan through Affirm. This allows you to pay a little bit at a time leading up to your session.
Professional, high quality boudoir photos can seem expensive to some people. It's important to remember that your photos will be professional and high quality. No offense to your best friend who took that super hot picture of you last summer, but your boudoir session is a totally different experience. These are photos that you will cherish for years to come. And we can't promise that you won't become totally addicted to boudoir photo sessions. But, we can promise you that your experience will be life changing!
Choosing a boudoir photographer doesn't have to be stressful.
I truly hope that I was able to provide you with some ideas of things to consider when choosing a boudoir photographer. If you have made it this far, take a few moments to look at my boudoir portfolio. 
Please do not hesitate to contact me, I would love to answer any questions that you may have. I also invite you to join our Womxn's Only Babe Cave Facebook Group where you will find an amazing group of babes who have first hand experience working with me.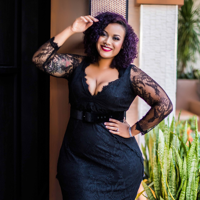 LeZandra McGinnis is a Norfolk, Virginia Photographer specializing in Boudoir Portraiture and Erotica Photography. LeZandra's life motto is: Fuck What They Think! And she encourages her clients to do exactly that! She can best be described as a Metalhead, Adventurer, and Whiskey Connoisseur.
LeZandra McGinnis
Owner at LeZandra Photography