I am so fucking excited to offer Intimate Products at Lux In Tenebris Intimates! When we first launched, we offered a curated selection of desiger lingerie. Well, I think it is safe to say that you should know me better than that by now! 😂 I couldn't just stop there!
Get LIT with LIT!
On April 20th 2022, Lux In Tenebris Intimates will launch a collection of the best intimate products online! We have scoured the adult toy industry and chosen the best products to offer to our amazing clientele! You will find a large selection of the best adult toys, BDSM Gear & Accessories, Machines & Erotic Furniture, and Sexual Health & Wellness products!
What Intimate Products Can You Expect?
Not just sex toys! Lux In Tenebris Intimates has a variety of intimates products for every body! Of course, we have sex toys that will leave you and/or your partner begging for more! But, we also have some well…less vanilla products as well! If you are part of the BDSM community, I think that you will absolutely love our selection of kink toys, machines & erotic furniture, and naughty role play props!
In addition to our size inclusive lingerie line, we are so fucking excited to offer sex inclusive intimate products that promote sex positivity! Our intimate products were selected FOR every body, no matter your gender or sexual preference! Whether you are interested in solo play, BDSM, items for couples, and anything in between; Lux In Tenebris Intimates will have something for you!
Adult Toys
If you've read our blog Sex Toy 101, you know there are so many amazing sex toys out there that it can be so daunting to find 'the one'. So, we've chosen a few of our favorites to make them easily available for you! We will offer the best vibrators for men and women, anal toys, dildos & dongs, toys for nipple play, sex toys for men, strap-ons, sex toys for couples, and vibrating bullets and eggs! Each selection has a variety of styles, prices, and features! Our sex toys are made of body safe, medical grade materials made by reputable companies such as LELO, Maia, Satisfyer; just to name a few!
BDSM Gear & Accessories
I absolutely LOVE all things BDSM! If you've checked out our kink room, I am sure you already know what I mean! So, of course I just HAD to offer you the best BDSM products that I could get my hands on!! We will have everything from bondage restraints, collars & leashes, gags, muzzles, & hoods, paddles, whips, floggers, & ticklers, and electrosex toys! Because there are so many options to choose from, we've narrowed it down to only the best BDSM products on the market! Each selection has a variety of styles, prices, and features.
Machines & Erotic Furniture
Machines and Erotic Furniture make for some of the best intimate products to have in your arsenal! We have found the best dance poles & accessories, female & male sex dolls, sex machines, and sex swings & slings. When you add any of these items to your play room, you'll never want to leave!
Sexual Health & Wellness
Our intimate products also include sexual health & wellness items! It is always so important to not only protect yourself with condoms and sex toy cleaner. Properly cleaning your sex toys is crucial to not only your health, but to the health of your sex toy. But, our lubes, lotions, & potions take playtime to mind blowing heights! Set the mood with a scented candle. Choose from water-based, oil-based, or silicone-based lubricants. Pamper your partner with a relaxing massage. Our Kegel trainers are great aids to help with your daily Kegel exercises.
Where to Shop for the Best Intimate Products
You can shop our online adult store at your convenience at anytime! We do anticipate that our intimate products will be a hot commodity so if you see something you like, don't wait! Unfortunately, we cannot guarantee that it will not sell out after a few days. However, we will continually be adding new products to our inventory each day so we highly recommend that you follow our social media accounts for new products. Or, sign up for our monthly newsletter or text message alerts! Each of our intimate products are made with the best materials on the market.
Help Us Celebrate the Launch of Our Intimate Products on 4/20!
Lux In Tenebris Intimates has been offering luxury lingerie for a year now and we just knew we had to offer more! Sex toys and intimate products are always a hot topic in our Babe Cave. After realizing how daunting it can be to choose the right products, I wanted to offer a selection of my favorite items to my lovely ladies.
We will also be adding to our designer lingerie collection! Our new lingerie products will still align with our mission. Body positivity is still at the forefront of our brand and we have curated sensual lingerie pieces for EVERY body!!
If you are part of our exclusive womxn's only Babe Cave on Facebook then you are in for a treat! Group members will be able to purchase their intimate products for a limited time at a discounted rate. We are also awarding our Top Contributor for March with a $75.00 Gift Certificate to use at Lux In Tenebris Intimates!!
In the coming weeks, we will be posting about our Top 5 Faves in several categories of intimates products that we will be carrying! Our Babe Cave members will receive exclusive discounts for these products! So, if you aren't a member yet….what are you waiting for?!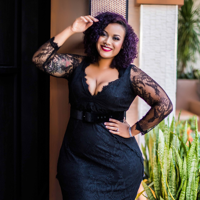 LeZandra McGinnis is a Norfolk, Virginia Photographer specializing in Boudoir Portraiture and Erotica Photography. LeZandra's life motto is: Fuck What They Think! And she encourages her clients to do exactly that! She can best be described as a Metalhead, Adventurer, and Whiskey Connoisseur.
LeZandra McGinnis
Owner at LeZandra Photography