I love personalizing your boudoir photoshoot! Not only is it important for me that we capture your personality during your session. But it makes your experience unique and exclusively yours. Which is why I loved this 420 photoshoot with Miss P! She has an infectious smile and her personality definitely shines through in these photos.
I have been pretty open about my love for cannabis. There are so many medicinal uses for it and as someone that suffers from various medical conditions, cannabis use has given me so much relief. I strongly feel that it's also very important that we combat the stigma associated with marijuana use.
As you can see, I am a huge proponent of cannabis consumption and I love when clients ask for a 420 photoshoot! Photographing Miss P's 420 photoshoot was so much fun for me as a boudoir photographer. I loved seeing her transformation as she released any tension and anxiety and allowed herself to be fully present and in tune with herself.
I had the privilege of meeting Miss P when she attended our Boudie Babes Beach Day event last summer. She and I hit it off right away! We talked about racial injustice, mental health, and life in general. I quickly realized that she was an amazing human being and I really love that I had the opportunity to meet her!
As you can imagine, I was beyond excited when Miss P reached out to me for a boudoir photoshoot. I was extremely fucking excited when she mentioned that she wanted a 420 photoshoot! After our conversation at the beach, I knew that she and I would have so much fun working together.
Miss P is such an amazing woman! She is the definition of an intelligent, bad ass, independent, and gorgeous woman who loves to partake in a smoke sesh. Miss P spends her days as a professional taking care of numerous people, helping them in ways both big and small. I absolutely loved working with her during this shoot! Isn't she fucking amazing?
Are you ready to book your 420 photoshoot with LeZandra Photography? Contact us now to get started!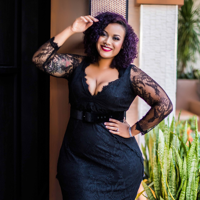 LeZandra McGinnis is a Norfolk, Virginia Photographer specializing in Boudoir Portraiture and Erotica Photography. LeZandra's life motto is: Fuck What They Think! And she encourages her clients to do exactly that! She can best be described as a Metalhead, Adventurer, and Whiskey Connoisseur.
LeZandra McGinnis
Owner at LeZandra Photography