Wedding season is upon us! Which means your Instagram feed is going to be filled with photos of happy couples celebrating their love for one another. You will also see photos of gorgeous women celebrating themselves and their upcoming weddings with bridal boudoir photography sessions.
I absolutely love bridal boudoir shoots and personalizing them to fit your personality. My clients feed my creativity because they are all so riveting and unique. Which make our bridal boudoir sessions anything but basic. If you can dream it, we can achieve it! And when celebrating your big day with a boudoir session, I will leave no stone unturned.
Why Should You Book A Bridal Boudoir Photography Session?
Your wedding day is a momentous occasion that you will remember for the rest of your life. You are celebrating the day that you and your partner profess your love to one another and begin your new lives together. But we all know that the celebration doesn't just begin or end with your wedding day. Prior to your wedding, you are busy prepping and planning for the big day. Most brides often forget to take time out for themselves.
A bridal boudoir photo shoot prior to your wedding is a great opportunity for you to get pampered with hair and makeup then let loose in front of the camera!
The amazing photos that you receive from your bridal boudoir session will serve as a reminder of you celebrating yourself before your big day. Not only that, but an album of your sensual bridal boudoir photos will make the perfect gift for your partner to be!
What to Expect During Your Bridal Boudoir Photography Session
During your bridal boudoir photography session with LeZandra Photography, you will be treated like the bad ass babe that you are by being pampered with professional hair and makeup. Then, you will connect with your inner vixen in front of my camera. Don't worry, I will help you find the perfect poses and help with any anxiety you may have. My goal is for you to be totally relaxed while having a blast celebrating yourself!
If you are a member of our Boudoir Babe Cave on Facebook or you have followed me on social media; you know that I love all things 'weird, edgy, or alternative.' So, you can definitely expect your bridal boudoir session with me to be anything but basic and boring! Prior to your session, you and I will have gotten to know each other quite a bit. It is so important for me to get to know my clients prior to a session so that I can make sure that we capture your essence in your photos!
Here is what the gorgeous Ms. J had to say about why she decided to have a bridal boudoir photo session and what her experiences were.
Why did you decide that you wanted to do a boudoir session?
To embrace my body and showcase it for my future husband to have forever.
Additionally, I fell in love with my wedding dress and I needed to have it photographed without worrying about messing it up. This allowed me to feel sexy and confident in and out of my dress before our wedding day. Let me just tell you, that body confidence I built with you before the wedding, was carried over into the wedding day. And it showed in those pictures too.
Plus, you made the dress be seen in a different way and I cherish these pictures just as much as my wedding pictures.
What made you decide to hire me as your photographer?
My previous experience (this was Ms. J's second photo shoot). You made me feel so proud of my body even when I didn't think I should be. Those first pictures with you forever changed the way I viewed myself.
How were you feeling before your shoot? Any thoughts going through your head?
Phenomenal. Excited for such a different experience!
How did you feel about having your hair and makeup done?
Great, my hair is difficult to work with but it looked great for the pictures
Now that you've had your own photo shoot, how was it?
Better than I could have ever expected.
Have you changed as a person since your boudoir session?
Yes! I embraced the sexy side of myself.
What would you say to someone considering doing a boudoir shoot?
FRIGGIN DO IT! Never in a million years will you regret it.
Is there anything I could do that would make this experience completely perfect?
Photograph me everyday like that??? lol
Any other thoughts or suggestions you'd like to tell me about?
No, thank you for being so amazing and genuine.
Your bridal boudoir experience will be both exciting and memorable! It is a time for you to celebrate YOU before your big day. It's an experience that you will have documented in beautiful pictures. Photos that you will be able to look back on throughout the years! So, what are you waiting for?! Let's get weird together with a Bridal Boudoir Photography Session!
Contact me today to get started!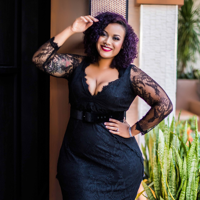 LeZandra McGinnis is a Norfolk, Virginia Photographer specializing in Boudoir Portraiture and Erotica Photography. LeZandra's life motto is: Fuck What They Think! And she encourages her clients to do exactly that! She can best be described as a Metalhead, Adventurer, and Whiskey Connoisseur.
LeZandra McGinnis
Owner at LeZandra Photography