This year, we are focusing on self care and self connection. Instead of adding New Years resolutions, we are getting rid of things that do not align with our goals or do not bring about a positive impact in our lives. Comparison is the thief of joy. This year, we will stop comparing ourselves to others and learn to embrace ourselves.
In our last blog, we talked about a few mindfulness techniques to help combat self criticism. One way that we can be too critical of ourselves is by comparing ourselves to others. I totally get it, it is so easy to compare ourselves to others. But what do we actually gain by doing this? Nothing. Nada. Zilch. Not a fucking thing!
Practice Gratitude
How often do you stop and take a look at the wonderful things that you do have? If we are being completely honest with ourselves, the answer is probably not very often. Now, how often do you compare yourself to others? Fairly often? That's ok! But, it's time to make some changes and stop comparing ourselves to others by practicing gratitude. Each day, write down three things that you are grateful for. It can be big or little things. Your gratitude list can look like:
I am grateful that it stopped raining right before I left the house today.
I'm grateful that I found that extra $20 bill in my jeans.
I am grateful for my family.
Keep a notebook near your bed and write down three things that you are grateful for each night. By practicing gratitude, we are changing that negative thought process with a positive one. After a while, you may even notice yourself making your gratitude list mentally throughout your day.
Focus On Your Strengths
One way to stop comparing ourselves to others is by focusing on our strengths. You are fucking amazing and you have so many talents and accomplishments under your belt! Celebrate yourself!! You aren't arrogant or full of yourself. You are acknowledging your achievements and you deserve that! Let's start focusing on our strengths and appreciating our attributes. Each day, write down three of your strengths. Three things that you are really good at, be specific and don't hold back! Your list can look like:
I am passionate. Once I set my mind on something or have a goal for myself, I works towards it. Sometimes I achieve that goal right away. Other times, it takes a lot of work over a long period of time. Regardless, I am passionate and I don't stop until I get it.
I connect really well with others. I'm able to connect with strangers that I just met. Very often I find myself engaged in a conversation with someone that I just met ten minutes ago and now they are telling me their life story. I love that I'm able to connect with others on a deep level. It's amazing getting to know them and I'm so thankful that they felt comfortable enough to expose themselves to me.
I am creative. I have a really good eye for design and detail. I'm often thinking outside of the box and looking at anything and everything from all angles.
It's Time to Take Out the Trash
One way you can stop comparing yourself to others is simply by taking out the trash. Not the physical trash, but the trash that you consume. Whether that is consumed by social media, tv, magazines, etc. If it isn't healthy or helping you to feel good about yourself, get rid of it. Get rid of the negative content that you ingest into your life. Stop watching that beauty vlog that makes you feel like you need to have a certain look to be beautiful. Unfollow that Fitness model on Instagram that makes you feel like your body isn't attractive because you don't have the body of a prepubescent boy. Stop comparing yourself to others by editing the content that you allow into your life. Take out the trash.
Stop Comparing Yourself to Others
As a boudoir photographer, I literally stare at naked or almost naked bodies all day long. I absolutely fucking love my job! However, I have struggled with comparing myself to others on so many occasions that I have lost count. Especially in the beginning, I found it very difficult to stop comparing myself to others. How could I not?! Have you seen my clients?? They are fucking phenomenal! However, once I learned to stop comparing myself to others, I truly feel that it not only helped my mental health but also positively impacted my craft.
When it comes down to it, comparing ourselves to others stems from anxiety. We are worried that we aren't quite measuring up; so we compare. When we habitually compare ourselves to others, we fuel that anxiety and create even more anxiety. It's a vicious, toxic cycle. By working to get rid of those negative thoughts we can finally stop comparing ourselves to others and start appreciating ourselves.
How will you stop comparing yourself to others? What positive impacts will it make in your life? Join in on the conversation in our Babe Cave!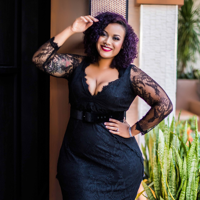 LeZandra McGinnis is a Norfolk, Virginia Photographer specializing in Boudoir Portraiture and Erotica Photography. LeZandra's life motto is: Fuck What They Think! And she encourages her clients to do exactly that! She can best be described as a Metalhead, Adventurer, and Whiskey Connoisseur.
LeZandra McGinnis
Owner at LeZandra Photography