In just a few short weeks, Lux In Tenebris Intimates will launch our full collection of adult sex toys! To celebrate, we are listing our Top 5 Faves of different sex toys that we will be offering. This week, we are featuring our Vibrating Bullets and Eggs!
Vibrating Bullets and Eggs are great for clitoral stimulation. The clitoris has over 8,000 nerve endings.  Each of the vibrating bullets and vibrating eggs featured below are made with high quality body safe, phthalate free, and latex free materials.
Benefits of Using Vibrating Bullets and Eggs
52% of women and 45% of men in the United States have used a vibrator. Exploring and discovering your pleasure points and what helps you achieve orgasm does wonders to your overall health! Using a vibrator can help you sleep better, relax and overcome stress, and release endorphins which aid in heart health.
When you are turned on, your vagina produces secretions which helps to increase vaginal elasticity and helps to keep your vagina healthy. Orgasms are a great way to help with menstrual cramps and pain. When you are aroused, endorphins are released in your brain which can soothe nerve impulses and help with physical pain in your body.
Using a vibrating bullet or vibrating egg can help you to expand your knowledge of your own pleasure points. By using the various speeds and patterns, or by making your own; you can experiment using your vibrating egg or vibrating bullet to find what you like and don't like.
Vibrating bullets and eggs can also help with bladder control! Ideally, you should be doing 20 Kegel exercises 3-4 times each day. When you orgasm, your pelvic muscles contract, helping to workout your pelvic floor.
Vibrators aren't just for women, men can use our vibrating bullets for a p-spot orgasm. Prostate stimulation, much like clitoral stimulation is almost always guaranteed to send you into a mind-blowing orgasm!
Whether you are using vibrating bullets and eggs during masturbation or with a partner, one thing is certain; you will always have an elevated and heightened orgasm.
Below, we have shared our Top 5 Fave Vibrating Bullets and Eggs from Lux In Tenebris Intimates!
Number One on our list of Top 5 Faves is the Screaming O My Secret Premium Remote Control Egg Vibrator. The My Secret Screaming O Premium Ergonomic Egg Vibe features a 20 Function contoured shaped. This vibrating egg features a soft touch feel, is 100% waterproof, phthalate and latex free, and offers over 60 minutes of deep rumbling vibration time. This discreet vibrating egg is rechargeable and comes with a toggle remote. Whether alone, or with a partner the My Secret Screaming O Premium Remote Egg provides for a next level pleasure experience!
Number Two on our list of Top Faves is the Satisfyer Ultra Power Bullet 8 Torch Turquoise. This bullet vibrator is just right for those who like to switch things up!
With its unique design and app control, the Satisfyer Ultra Power Bullet 8 offers numerous options for sensual moments. You will enjoy clitoral stimulation through powerful vibrations! You can also choose between 12 pre-programmed vibrations that can be edited. Can also be used without the app. App offers an unending range of programs.
Compatible with the free Satisfyer App available on iOS and Android. Powerful vibration patterns provide intense clitoral stimulation. Thanks to its waterproof finish, this toy can be used safely in water and is super easy to clean. Waterproof rated IPX7. Made using body safe, phthalate free materials Silicone.
Whisper quiet mode helps you to keep playtime discreet. Rechargeable Lithium ion battery. Magnetic USB charging cable included. Easy to clean. With its extravagant appearance, the Satisfyer Ultra Power Bullet 8 not only stands out visually, but also offers variety to your lovemaking: Use the narrow tip for selective clitoral stimulation or let the angled surface stimulate large sensitive areas.
Despite its slim stature and manageable size, this mini vibrator, like all Satisfyer Power Bullets, offers strong and deep vibrations with 5 speeds and 7 vibration patterns, which can also be controlled with the Satisfyer Connect app.
This little friend is the ideal companion for on the go and everywhere else.
After enjoying intimate pleasure, the Ultra Power Bullet 8 can be cleaned easily with a little soap and water and recharged in an environmentally friendly way with the included USB charging cable. Bullet vibrator with innovative app control.
When you use the free Satisfyer Connect app for Android and Apple iOS, sex can be even more entertaining and varied with the Ultra Power Bullet 8: In addition to app control, you can also design your own vibration programs or hand over control of the bullet vibrator to your partner.
Would you like to be pleasured to the rhythm of your favorite music? Then this is perfect for you. The app lets you feel all your favorite songs on Spotify as vibrations.
The Satisfyer Ultra Power Bullet 8 comes in Lilac (as shown) and Turquoise.
Coming in third of our Top 5 Faves is the Lola Rose Gold Super Charged Twisty Bullet Vibrator from Maia Toys. This 10 function super charged vibrating bullet with a twisty design for maximum sensations. Lola Vibrator is small enough to carry with you but is powerful to super charge your day or night.
The Lola Vibrator is coated with 100% medical grade Silicone for body safe use and is easily cleaned with mild soap and water or adult cleaners. Lola is submersible for use in the bath or shower.
Your Lola Rose Gold Super Charged Twisty Bullet Vibrator is USB rechargeable and comes with a USB charger. This vibrator is 4.5 inches by .8 inch. Your vibrating bullet also comes with a 1 year warranty.
The Lola Vibrating Bullet comes in Rose Gold (as shown), Black, and Teal.
Taking up number four on our list of Top 5 Faves in vibrating bullets and eggs is the Jessi Vibrating Bullet by Maia Toys.
Super charged mini bullet vibrator features 10 speeds of pulsating vibrations using a strong motor. Fully submersible in water, this waterproof mini bullet is great for shower and bath time play!
The Jessi Vibrating Bullet measures 3 inches by .8 inch. This vibrating bullet is made using body safe, medical grade silicone and ABS Plastic. Your vibrating mini bullet also comes with a 1 year warranty from Maia Toys.
The Jessi Vibrating Bullet comes in Rose Gold, Teal, Butterfly Pattern, Emerald, Purple (as shown), 420 Emerald, and 420 Teal.
Lastly, we have the App Controlled Love Egg in Coral. This vibrating egg is perfect for couples who are playing together but long distance away from each other. This app controlled vibrating egg from Xgen- Products works over WIFI and great for solo or partner play.
Whether you want to strengthen your pelvic floor or enjoy deep stimulation, the long range vibrator is a versatile toy that can even be controlled via the Love Distance App.
The Love Egg also comes with a satin travel case for discreet storage and is USB rechargeable. Made using body safe, phthalate free materials Silicone.
Sex Toys are a great addition to your Erotica Boudoir session! It is always so important to me that you are totally comfortable and relaxed during your photo shoot, so I always recommend that you bring your faves to your erotica photoshoot. I have had several clients and couples bring a few of their favorite toys with them to use during sessions. If you are a member of our Babe Cave on Facebook, you will get an exclusive discount on these amazing vibrating bullets and eggs!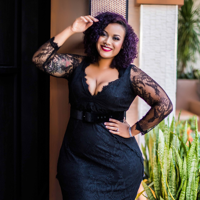 LeZandra McGinnis is a Norfolk, Virginia Photographer specializing in Boudoir Portraiture and Erotica Photography. LeZandra's life motto is: Fuck What They Think! And she encourages her clients to do exactly that! She can best be described as a Metalhead, Adventurer, and Whiskey Connoisseur.
LeZandra McGinnis
Owner at LeZandra Photography